YOU HAVE A BOOK IDEA THAT'S BEEN ON YOUR HEART OR MAYBE YOU EVEN HAVE A DRAFT.
But you are encountering roadblocks and aren't sure the next best step.
Stop spending your precious time on endless Internet searches!

Instead...
✔ Follow our comprehensive checklist and roadmap for self-publishing your book.
✔ Learn the uniquely Catholic perspective to self-publishing and how to keep God at the center of your work. 
✔ Understand industry best practices and steps involved for self-publishing a professional, high-quality book that is good, true, and beautiful.
✔ Gain the confidence you need to be the CEO, Creative Director, and Project Manager for your book.
✔And get connected with Catholic book cover designers, editors, and illustrators who can help you (+ discounts!)

LET ME GUESS...
You are t
ired of spinning your wheels and falling down the 🐇 rabbit hole of Internet searches, and still not quite sure the best route to take.
🙌Now, you're looking for a step-by-step roadmap and
Catholic curriculum
to learn how to
properly self-publish your book
.
You crave help with self-publishing, so...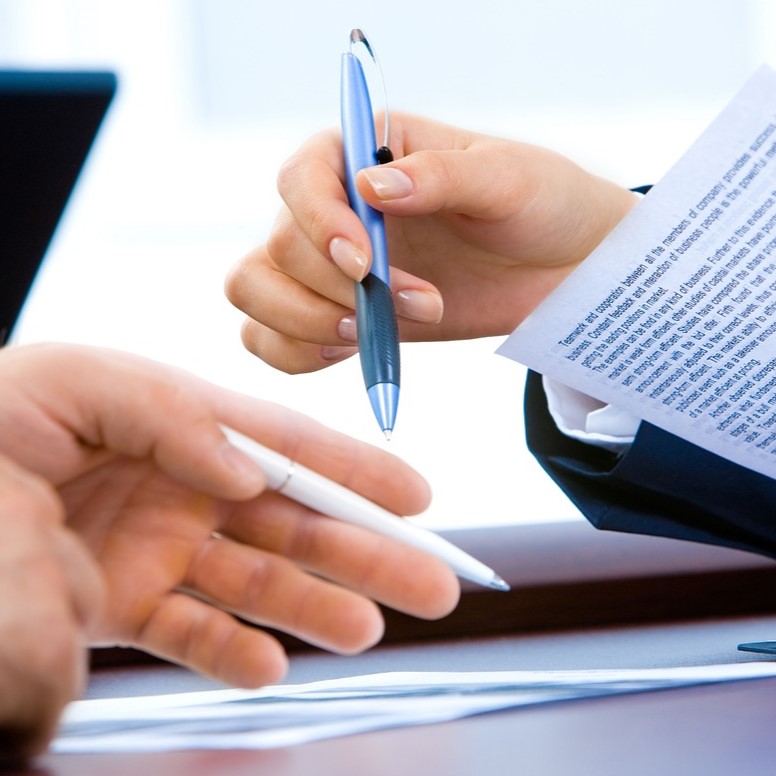 You thought about paying a company or high-end coach for a self-publishing package...

BUT they are thousands of dollars and you are afraid it won't be a good return on your investment or, even worse, a straight up scam. You don't feel right about spending so much of your money on such an unknown.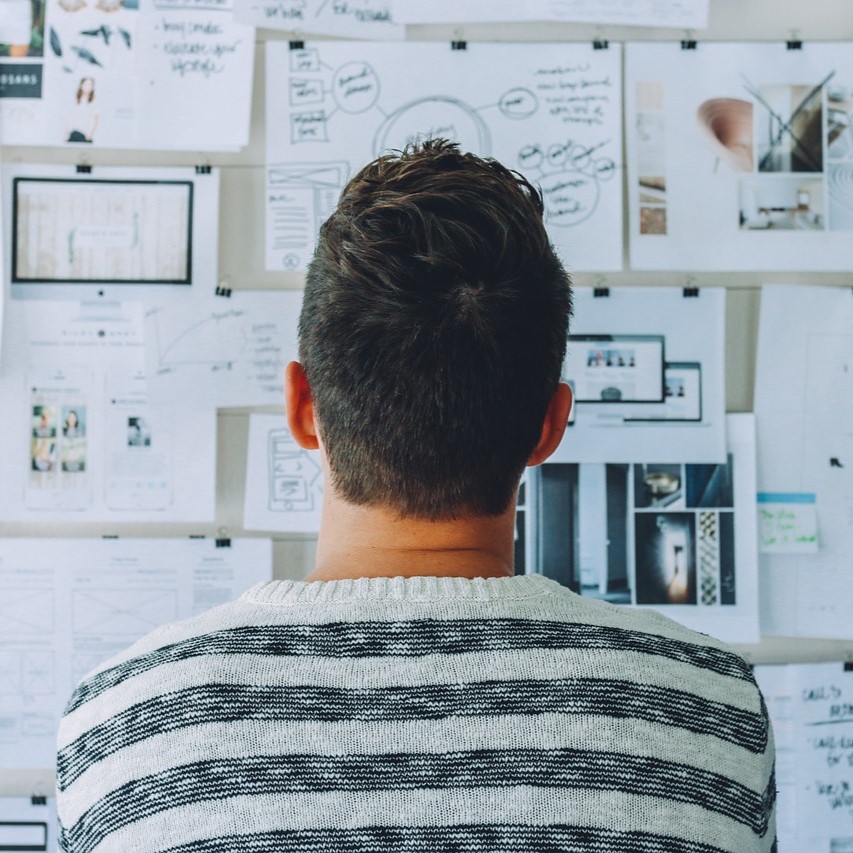 That's why you considered researching everything on your own...

BUT you are encountering conflicting messages. You keep bouncing ideas off of the same family member or friend. You ask for help in writer's groups and no one seems to understand your questions. Are you the only one who cares about doing this right? You are spending so much time trying to find reliable information that you aren't spending any time actually working on your book.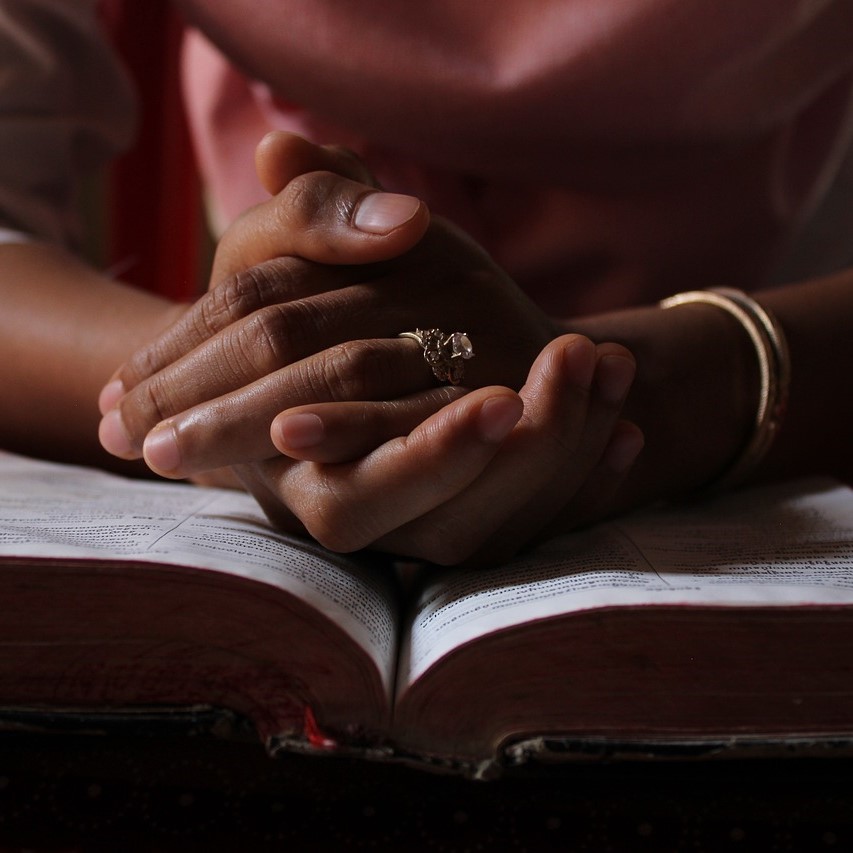 You even thought about joining a secular self-publishing program...

BUT you are concerned they won't know how to support you and your Catholic views. Will they know how to help you find a Catholic book cover designer and editor? Does this group support other projects that go against Church teaching?

Here's a BOLD question for you...
What if you could stop spinning your wheels
and instead, follow God's call to publish your book, using a Catholic curriculum that cares about

building God's kingdom with good, true, and beautiful books?



Sounds too good to be true?
👇Keep reading and I'll show you exactly how!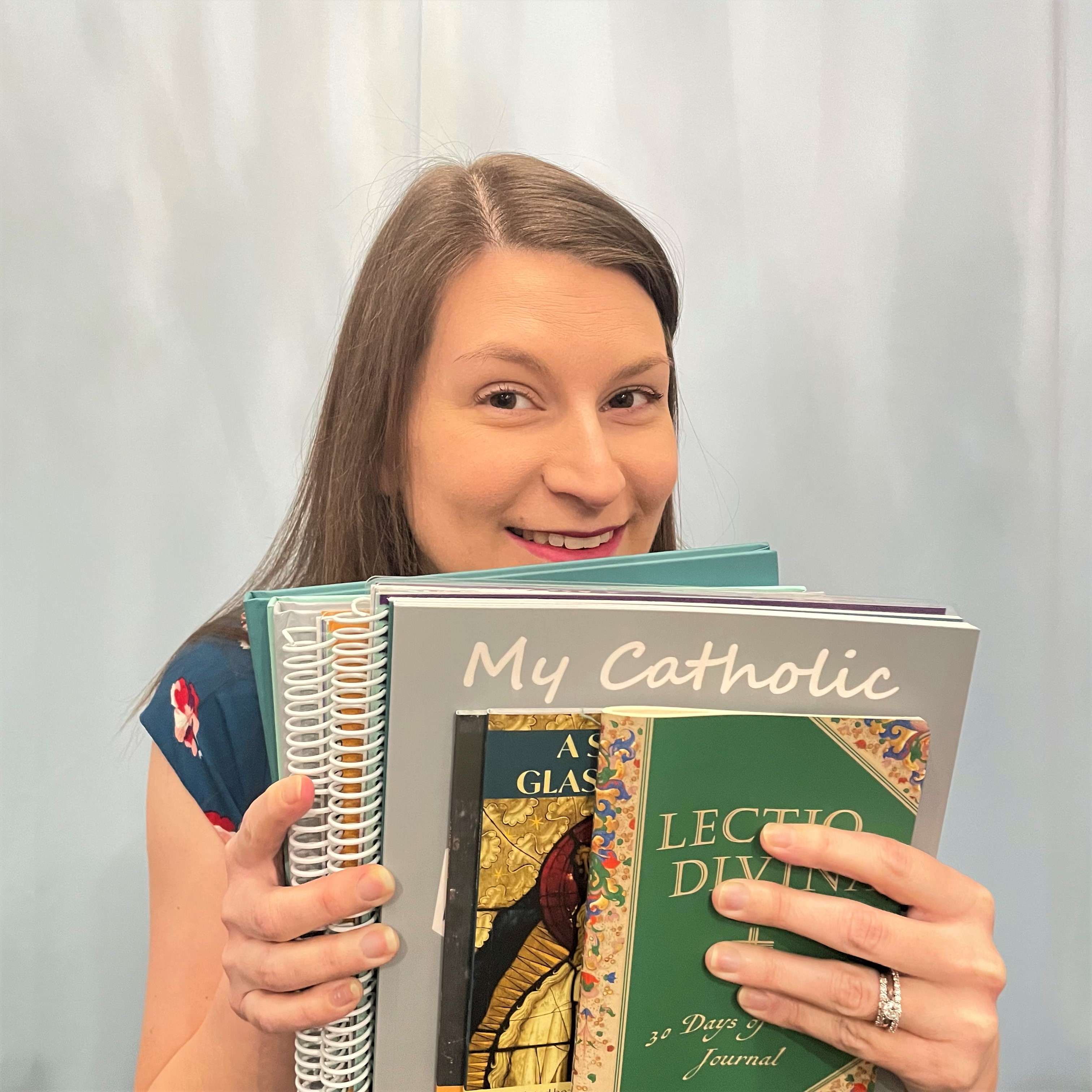 👋Hi, I'm Kate!
I've self-published all the books you see me holding, run a market featuring the books of 20 independently published authors, and built this Academy from scratch when God placed it on my heart to help others self-publish.


When I work on a book
, I have a clear roadmap of all the steps involved, a list of tried and true printers I can use, and an incredible community of other authors and self-publishing experts I can turn to for advice.
I'll be honest with you... getting to this point WASN'T easy.


When I started out self-publishing, I had no idea what I was doing. I spent hours online researching. I talked my husband's ear off about book layout and printers because I didn't know where else to turn. I really struggled to find others who cared as deeply as I did about creating good, true, and beautiful books for the Catholic Church.
👉So I did what many do and joined every free self-publishing and Catholic Facebook group I could find. I posted many questions and tried to piece together all the answers I received.

But then...
I began to feel frustrated. I was getting conflicting responses, or worse, no response. My questions were either too specific for general Catholic groups, (ISBNs?) or too Catholic for secular self-publishing groups (Imprimaturs?). I wasn't making the progress I desired. I was spending too much time with online searches and valuable time with my husband talking about paper samples.
My gut told me that there must be other Catholic self-publishers out there. Why weren't more people talking about this? And then...
😔 I had a printer totally botch my books😔
❌I was way behind schedule and no one I asked had any leads.❌
This was feeling too challenging. Did God really want me to go down this path?😭

So, I tried...
❌ More Internet searches
❌ More pleas in Facebook groups for printer recs
❌ Running Facebook ads to make up for lost time
I told myself: 
There must be an easier way to do this and make this work. God wouldn't have placed this book on my heart without a solution.

And that's when it hit me!
 If I wanted this 🦄unicorn of a "Catholic self-publishing roadmap" I imagined ... I needed to build it myself.

But would others join me in this ambitious venture?
YES! Since opening in January 2023, I have ...

✅ Over 60 authors who joined as Founding Members, helping me to beta test and perfect my

program. Here's what they have to say.

✅ 15 Instructors with very notable backgrounds who said YES to teaching.
✅ 30+ hours of recorded interviews and presentations from instructors and guest speakers.
✅ Over 50 people in our Catholic service provider directory who are willing to help self-publishers work on their books, many offering discounts. This includes book cover designers, editors, illustrators, typesetters, and more!

The best thing?
This saves authors so much time, money, and energy!
(That they can spend on actually writing and creating... 🥰)
The answers have never been more attainable. This is self-paced curriculum at your fingertips.

SO HOW DOES IT WORK EXACTLY?

Introducing...
THE FIAT SELF-PUBLISHING ROADMAP
The first Catholic self-publishing curriculum for authors that want to turn the book God placed on their heart into something truly spectacular! It's a combination of course, task management, video and self-paced reading that is your ultimate roadmap to self-publishing!
Here's what's included: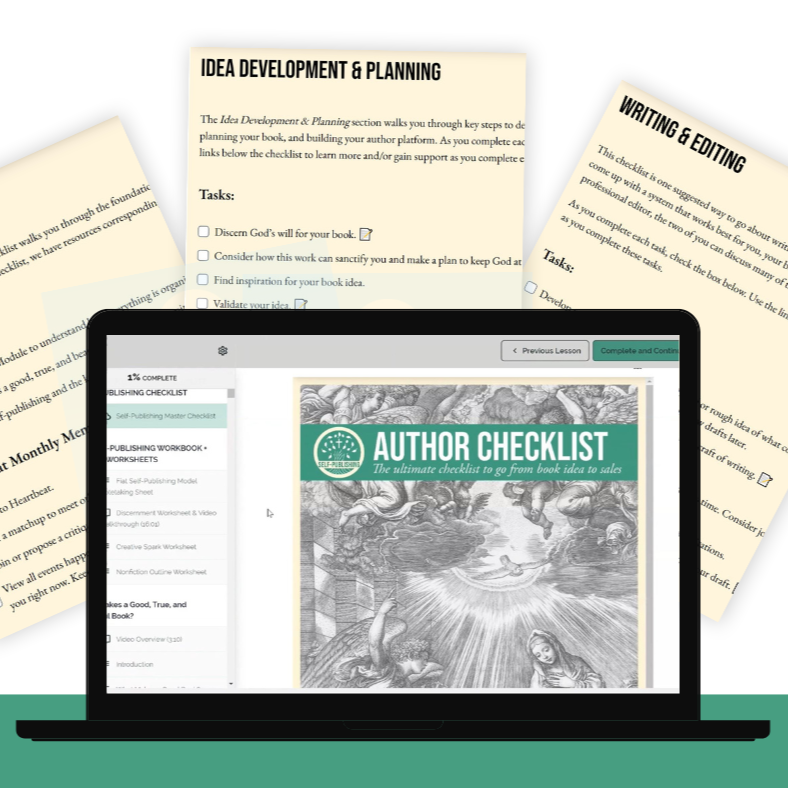 Self-Publishing Master Checklist
Our checklist is fully integrated into our course platform. See your tasks, check the boxes, and save your progress. Follow links to course modules to easily find the info you need, when you need it. From first idea to marketing your book, we've got a checklist to keep you on track!
Self-Publishing 101 Course

Our course modules (view all lessons here!) walk you through all stages of self-publishing: 1) Idea Development & Planning; 2) Writing; 3) Editing; 4) Formal Review; 5) Design; 6) Printing & Publishing; 7) Marketing; plus core areas: Business, Creativity, Discernment & Sanctity.
Our course is self-paced and primarily text-based (perfect for reading through answers quickly) with expert videos (read more below) included to provide deep dives on a variety of topics.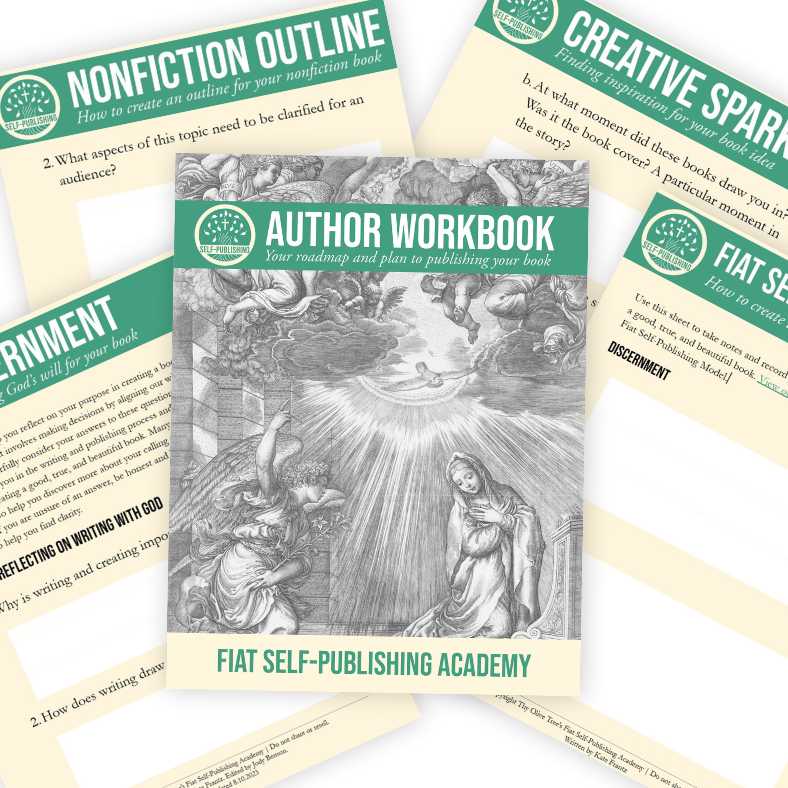 Author Workbook + Bonus Worksheets

Our downloadable workbook helps you keep track of important self-publishing decisions, plans, and goals.
Additionally, we have worksheets specifically for overall notetaking, discernment, finding inspiration for your book idea, and developing a nonfiction outline.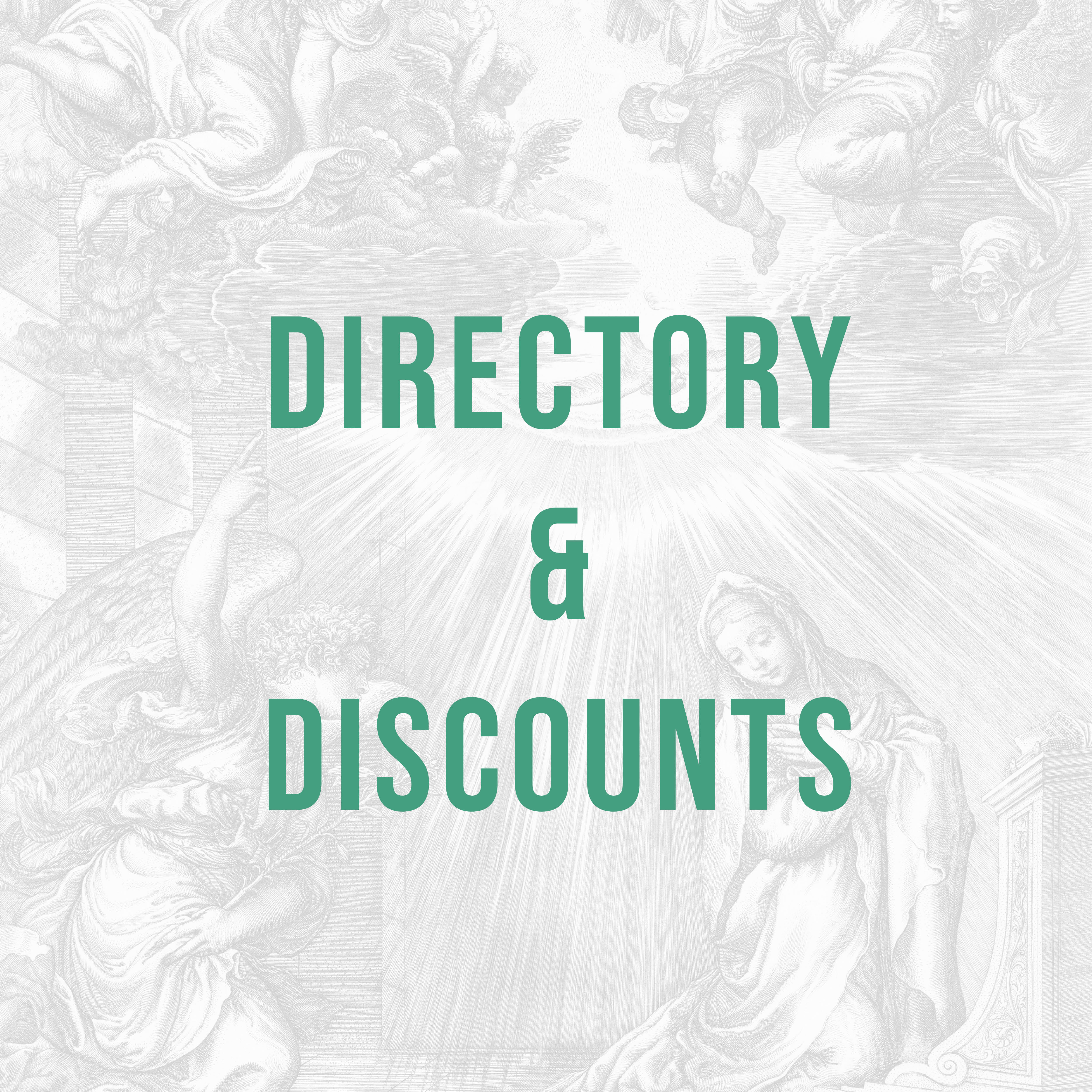 Service Provider & Printer Directory + Discounts

From our experience, it can be incredibly challenging to find Catholic illustrators, editors, book cover designers, typesetters, and more. We have done the hard work for you by building a directory of service providers. Many of these professionals have chosen to offer discounts just for you! We have 20+ illustrators (with art portfolios you can browse), 35+ other service providers, and a short list of our favorite printers.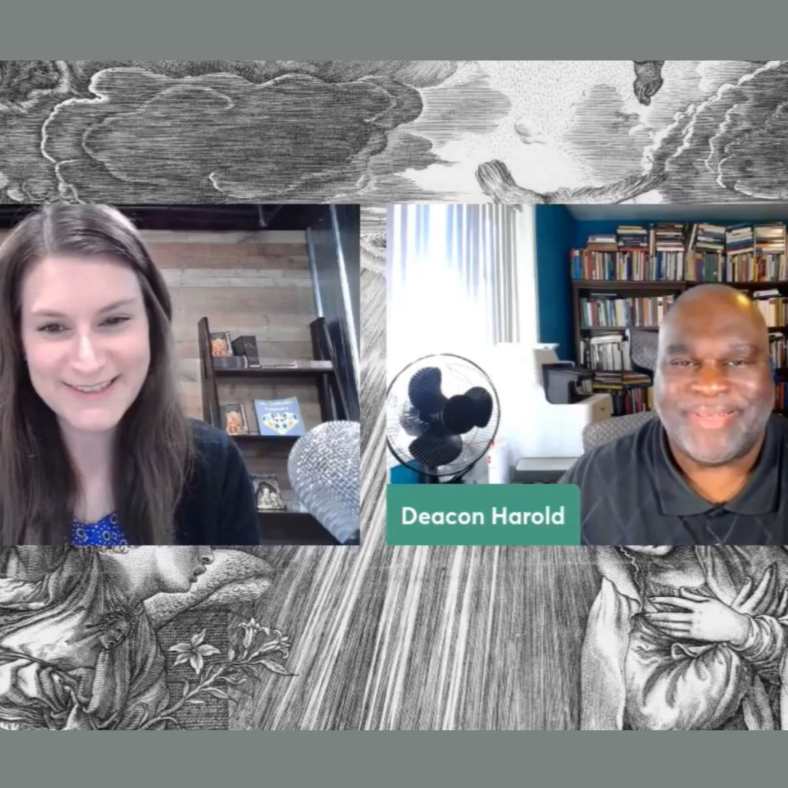 Expert Interviews & Presentations
We have around 30 hours of expert interviews and presentations (
view the list here!
) from our Instructors and Guest Speakers that have been included within the course. Those looking for a deep dive on specific topics are sure to find it.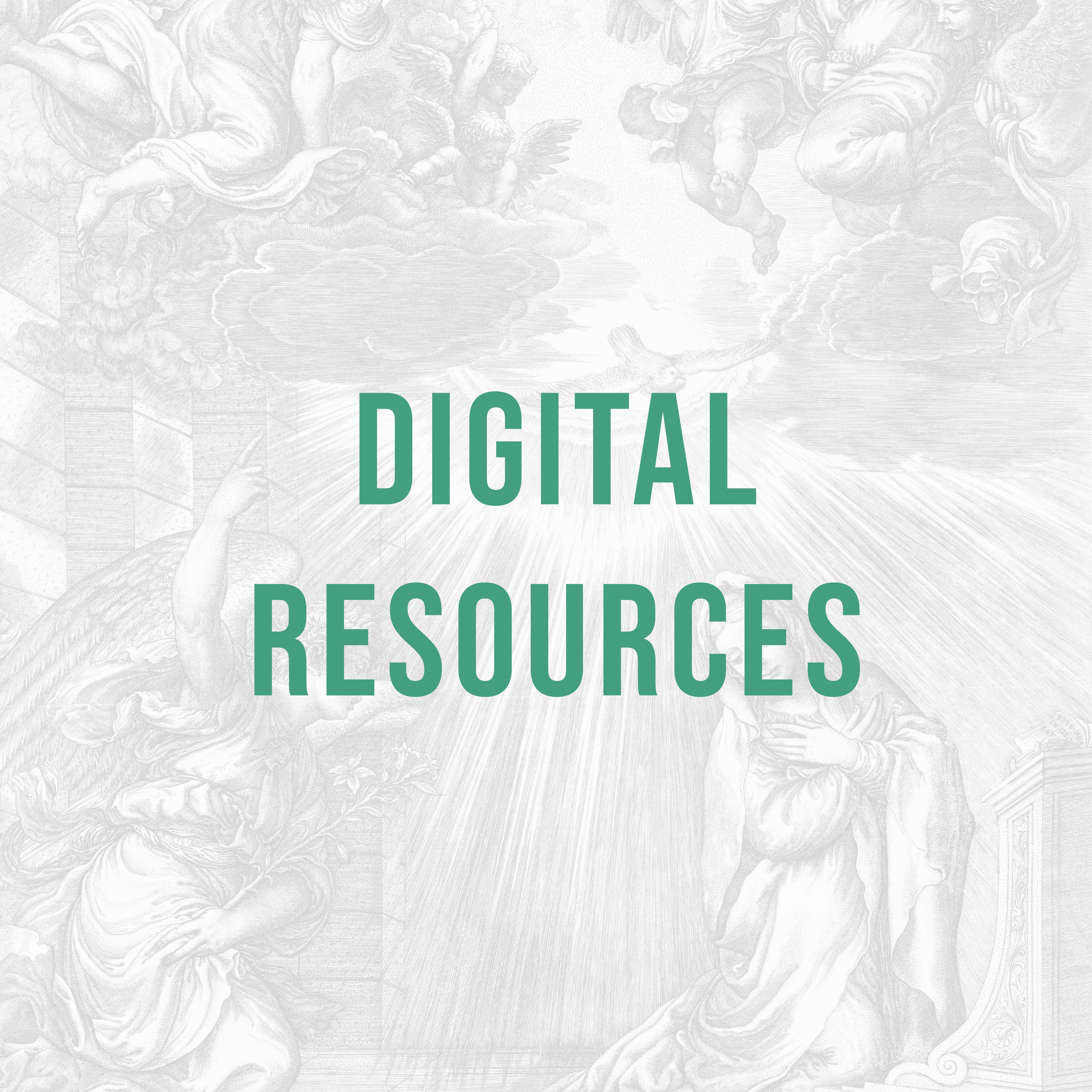 Digital Resources

Our course is loaded with PDF handouts, presentation slides, and incredible resources like sample press releases, contact information for the top 50 Catholic media outlets, and more!
View the full list here
.
HEAR WHAT OUR MEMBERS HAVE TO SAY!
ENROLL TODAY AND GET 1-YEAR ACCESS TO:

The self-publishing master checklist ($100 value)
Self-publishing workbook & worksheets ($50 value)
Self-Publishing 101 Course ($600 value)
Service Provider & Printer Directory + Discounts ($250 value)
Expert Interviews & Presentations ( $2,000 value)
Digital Resources ($250 value)
For $347 (
$3,250 Value)
⭐PLUS ACT FAST FOR AN INCREDIBLE BONUS!⭐
The first 10 people to enroll will get a FREE 6-month Author Membership ($210 value). This includes access to instructors, group coaching, and a peer community. Act soon!

🙌 Now is the time to finally say YES to the book God placed on your heart.
Start writing, shake the dust off the manuscript, and commit to publishing your book!
The world needs more good, true, and beautiful books, and they need to hear your story.
If you are ready and committed to geting your story out of your head and into a book you can hold with your very own hands, sign up today!

FREQUENTLY ASKED QUESTIONS
We try to be an open book 😂 when it comes to our course offerings and policies. Please read before purchasing!


Can I get a refund if I change my mind?
You have 14 days to request a refund (minus a $25 processing fee) if you change your mind. After 14 days, we do not issue refunds.
Do you offer payment plans?
Yes. When you checkout, you'll be given the option to select a payment plan through a third party payment processor.
Does the course have live sessions or video calls?
Everything is self-paced and pre-recorded to study on your own. If you are looking for live sessions and additional support, consider our monthly author membership.
Do I have to be Catholic to enroll?
Everyone is welcome! Just know, we teach through the lens of the Catholic faith and do not support the creation of books contrary to Catholic Church teaching.
Do I need to be working on a Catholic book?
Our teaching model works for all types of books, faith-based and non-faith-based.
I haven't written my book yet. Is this course for me?
The course starts with the very basics of idea development and planning. If you are still refining your idea, this will be incredibly helpful to get you moving in the right direction. Just keep in mind, there will be a period of time, depending on the length of the book you are writing, where you will transition your focus away from course learning -- to write your first draft. This can take months depending on your time available and writing habits.
I am outside the United States, can I enroll?
Yes! Just keep in mind, education is based on U.S. systems and publishing practices. While you will definitely gain a good knowledge base, not everything will apply to those living outside the U.S.

How do I access everything?
We use Teachable as our learning platform. Teachable is best accessed via your desktop browser. There is also an iOS app with basic features.

How long do I have access to everything?
You will have access for 1 year.
Why not lifetime access?
This course is for those who are ready and committed to making progress NOW.

Most people with lifetime access put off starting a course for years or never finish it. Our goal is to help you make considerable progress over the next 12 months!

Having a deadline encourages this progress and rewards those who make self-publishing a priority. For

$347, we are saving you hundreds if not thousands of dollars and years of time spent figuring this out yourself.

What if I need more time after a year?
We truly want you to succeed! If at the end of your year you need more time, we have extended access available at a significant discount.
Can I download course materials?
Our workbook, worksheets, and most of our digital resources are available for download. Our videos and self-publishing checklist are not available for download.
Do I have access to course updates?
Yes! During your 1-year access, you will receive any course updates we make! This frequently occurs and may include videos, resources, or new course lessons we feel are necessary.
Does the course come with community access and support? If I have questions about the course material, can I ask an instructor?
That level of support would be available through our monthly membership as a separate purchase.
We highly recommend this for anyone desiring more in-depth support, feedback, and mentorship.
How much overlap is there between your monthly membership and this Roadmap / Course?
Unique to the roadmap/course: Self-publishing checklist, workbook, worksheets, course modules, and additional video lessons.
Unique to the membership: virtual event access (coaching, critiques, Q/A sessions, interviews, presentations, brainstorming, work sprints, etc.), previously recorded coaching & critique sessions, peer community, and instructor access.
Both provide access to the directory and discounts. The Roadmap/Course contains many of the digital resources and previously recorded interviews and presentations that Author Members have access to. Author Members have a Course Sampler containing some lessons from the Roadmap/Course that provide an overview of self-publishing.
How much does it cost to self-publish a book?
It greatly varies. We suggest reading our free lesson which breaks down various costs involved.
I'm not so great with technology. Will this course help me?
Our course is excellent at giving you industry recommendations for publishing platforms, and suggesting the technology you may need (e.g., social media platforms, email providers, websites, formatting tools, etc.) If you are looking for detailed step-by-step instructions or video walkthroughs on how to set up accounts (e.g., Instagram, Amazon KDP, etc.), that will require some additional research on your part.
Do you focus on a specific genre or type of book?
Our model is meant to be broad so that it applies to all types of books. e.g., memoirs, planners, children's books, fiction, etc. Our intent is not to focus too heavily on any one area. Although, we do have some additional resources when it comes to children's books.
Will I get help with my writing?
The course is focused on the business and logistics of self-publishing as opposed to the craft of writing. Our intent is not to replace the need for formal writing instruction. If you are looking for writing coaching, you might consider joining our membership as well.
Am I going to be a bestselling author?
We don't know, and we caution you from working with anyone who tells you otherwise! Self-publishing is hard work. It's not a get-rich-quick scheme. We do hope that by taking this course, you will save time, money, and have your best shot at success.
Will you be my publisher?
We are not your publisher and you retain all rights to your book.
Will you be doing my editing, book cover design or other services?
We train you to find those service providers to work with on your own. Our goal is to empower you to become the project manager and creative director for your book, so you can self-publish on your own terms.

I have more questions!
Great, please reach out to

[email protected]

and we'd be happy to assist!